Top 5 US Destinations Every Solo Female Traveler Needs to Explore
Discover independence and adventure in our article highlighting the top five US destinations every solo female traveler should visit.
Traveling alone can be a truly liberating and transformative experience, especially for women. It's a chance to embrace independence, discover hidden strengths, and immerse oneself in new cultures and landscapes. If you're a solo female traveler looking for the perfect destinations to explore in the United States, you're in luck! The US is home to a myriad of vibrant cities, breathtaking natural wonders, and unique cultural experiences that will leave you inspired and fulfilled. In this article, we'll take a closer look at the top 5 US destinations every solo female traveler needs to explore.
So grab your passport, pack your bags, and get ready for an adventure of a lifetime!
Understanding the Appeal of Solo Travel
Before we dive into the best destinations for solo female travelers in the US, let's take a moment to appreciate why solo travel holds such a special allure. Solo travel allows you to break free from the constraints of everyday life and venture into unknown territories with a sense of freedom and independence. It's an opportunity to reconnect with yourself, step out of your comfort zone, and discover the world on your own terms. Whether you're seeking adventure, self-discovery, or simply a break from the routine, solo travel opens doors to endless possibilities.
Embracing Independence and Adventure
One of the most exhilarating aspects of solo travel is the chance to embrace your independence and embark on thrilling adventures. Whether you're hiking through national parks, wandering the bustling streets of metropolitan cities, or indulging in local cuisine, you have full control over your itinerary. You can personalize your experience, follow your intuition, and embark on spontaneous detours that may lead to unexpected encounters and unforgettable memories.
Safety Considerations for Solo Female Travelers
While solo travel offers incredible freedom, it's important to prioritize safety, especially as a solo female traveler. Before you embark on your journey, take the time to research each destination thoroughly. Familiarize yourself with local customs, cultural norms, and potential safety concerns. Be mindful of your surroundings, trust your instincts, and make sure to take necessary precautions such as staying in well-located accommodations, utilizing reliable transportation options, and sharing your travel plans with someone you trust.
And speaking of destinations, here are the top 5 US cities for solo female travelers:
New York City
Welcome to the city that never sleeps – New York! With its iconic skyline, world-class attractions, and vibrant energy, the Big Apple should be on every solo female traveler's bucket list. Start your adventure by exploring the concrete jungle that is Manhattan. Dive into the cultural melting pot of neighborhoods like Chinatown, Little Italy, and the Lower East Side. Indulge in a Broadway show, take a leisurely stroll through Central Park, and marvel at the beauty of the Statue of Liberty. The possibilities are endless in the city that embodies diversity, ambition, and boundless opportunities.
Highlights of the Big Apple
New York City offers a plethora of highlights that will leave you breathless at every turn. Visit the iconic Times Square, where bright lights and bustling crowds create an electric atmosphere. Immerse yourself in the world of art at the Metropolitan Museum of Art or the Museum of Modern Art. Treat your taste buds to a culinary adventure in the diverse culinary scene, ranging from the famous New York-style pizza to international delicacies. And don't forget to explore the trendy neighborhoods of Brooklyn and Williamsburg, where art, music, and creativity thrive.
Safety Tips for Solo Travel in New York City
As a solo female traveler in New York City, it's essential to stay vigilant and take certain precautions. Opt for well-lit streets when walking at night, avoid empty subway cars, and be cautious of your belongings in crowded areas. Familiarize yourself with the subway system, which allows you to navigate the city efficiently. Additionally, consider joining a walking or bike tour to explore the city's hidden gems while feeling safe in the company of knowledgeable guides.
San Francisco
On the opposite coast, nestled on the stunning shores of California, lies the vibrant city of San Francisco. Known for its iconic landmarks, diverse neighborhoods, and progressive spirit, San Francisco is a solo female traveler's paradise. Explore the winding streets of Chinatown, wander through the artistic hub of the Mission District, and feast your eyes on the marvel of the Golden Gate Bridge. The city's unique blend of natural beauty, captivating culture, and vibrant food scene is bound to captivate your heart.
Exploring the Golden Gate City
San Francisco is a city that begs to be explored. Admire stunning panoramic views from Twin Peaks or head down to Fisherman's Wharf to savor a fresh seafood meal while enjoying the sights and sounds of the bay. Take a ferry to the infamous Alcatraz Island, where you can immerse yourself in the rich history of the former prison. Don't forget to hop on one of the city's iconic cable cars, where you can soak in the quintessential San Francisco charm as you traverse the hilly streets.
Navigating San Francisco as a Solo Traveler
While San Francisco is a relatively safe city, it's always important to take precautions as a solo female traveler. The city's hilly terrain can be challenging to navigate, so make sure to wear comfortable shoes and carry a map or utilize smartphone navigation apps. Be aware of your surroundings, especially in crowded areas, and avoid walking alone in secluded areas at night. Embrace the city's friendly and welcoming atmosphere, strike up conversations with locals, and don't hesitate to ask for recommendations or guidance.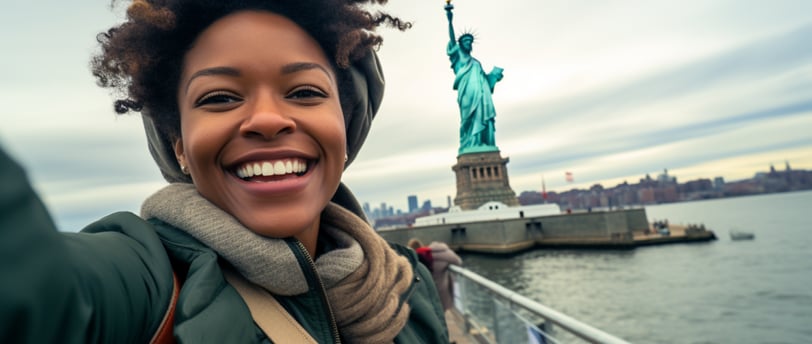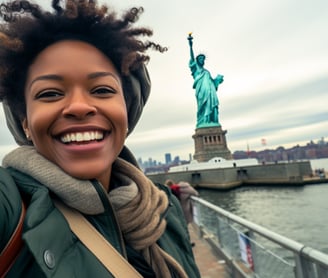 Austin
Looking for a destination that exudes southern charm and a vibrant arts scene? Look no further than Austin, the capital of Texas. Known for its live music culture, delectable cuisine, and laid-back atmosphere, Austin is a haven for solo female travelers seeking an unforgettable experience. Immerse yourself in the sounds of live bands on 6th Street, indulge in mouthwatering Tex-Mex and barbecue, and explore the city's countless parks and green spaces.
The Charm of Southern Hospitality
Austin's warmth and hospitality are evident the moment you arrive. Embrace the city's lively spirit by venturing out to the countless music venues scattered throughout the city, where you can enjoy a diverse range of genres. Visit the illustrious State Capitol building, hike along the trails of Barton Creek Greenbelt, or take a leisurely paddleboard trip down Lady Bird Lake. Whether you're a foodie, music lover, or outdoor enthusiast, Austin has something to offer for everyone.
Solo Travel Guide to Austin
Austin's vibrant and welcoming atmosphere makes it an ideal destination for solo female travelers. Start your adventure by exploring the downtown area, where you'll find an abundance of galleries, boutiques, and unique shops. Join a food tour to sample the city's famous cuisine, including the delectable breakfast tacos and mouthwatering barbecues. And if you're a nature lover, don't miss the opportunity to visit nearby destinations such as Hamilton Pool Preserve or the charming town of Fredericksburg.
Portland
Escape to the picturesque landscape of the Pacific Northwest and discover the enchanting city of Portland. With its lush greenery, vibrant food scene, and quirky charm, it's no wonder why Portland has become a hotspot for solo female travelers. Immerse yourself in the city's vibrant craft beer culture, explore the eclectic neighborhoods, and venture into the breathtaking natural wonders that surround the city.
The Allure of the Pacific Northwest
Portland is a city that effortlessly combines the best of both worlds – a vibrant urban center and easy access to stunning natural landscapes. Be sure to explore the enchanting Portland Japanese Garden, lose yourself in the vibrant colors of the International Rose Test Garden, and embark on a scenic hike in Forest Park, one of the largest urban forests in the US. Don't miss the opportunity to explore nearby natural wonders such as the awe-inspiring Multnomah Falls or the picturesque Oregon Coast.
Traveling Alone in Portland
Being one of the most bike-friendly cities in the US, Portland offers plenty of opportunities for solo exploration. Rent a bike and pedal your way through the city's numerous bike lanes and scenic paths, enjoying the fresh air and stunning views along the way. Be sure to visit the city's vibrant neighborhoods, such as the eclectic Hawthorne District or the artistic Alberta Arts District, where you can immerse yourself in the creative spirit that defines Portland.
New Orleans
No list of must-visit US destinations for solo female travelers would be complete without mentioning the vibrant city of New Orleans. Known for its rich cultural heritage, soulful music, and mouthwatering cuisine, the Big Easy offers a truly unique experience that will leave you captivated and inspired. From historic neighborhoods to lively jazz clubs, New Orleans promises an adventure like no other.
The Magic of the Big Easy
One of the best ways to discover the magic of New Orleans is by exploring the heart and soul of the city – the French Quarter. Lose yourself in the colorful streets, marvel at the intricate ironwork of the historic buildings, and indulge in the world-famous Creole and Cajun cuisine. Don't forget to experience the vibrant music scene that permeates the city, from traditional jazz at Preservation Hall to lively brass bands parading through the streets during Mardi Gras season.
Must-Try Activities in New Orleans
New Orleans offers a plethora of unique experiences that will make your solo trip truly unforgettable. Take a steamboat ride along the mighty Mississippi River, visit the hauntingly beautiful St. Louis Cemetery No. 1, or explore the vibrant nightlife that makes New Orleans famous. If you're a food lover, be sure to sample traditional dishes like gumbo, red beans, and rice, and beignets at the world-famous Café du Monde. The sounds, flavors, and rich cultural heritage of New Orleans will leave a lasting impression on your soul.
Now that you have discovered the top 5 US destinations every solo female traveler needs to explore, it's time to plan your trip and turn your travel goals into reality. Whether you choose to immerse yourself in the vibrant culture of New York City, take in the breathtaking landscapes of San Francisco and Portland, or indulge in southern hospitality in Austin and the soulful charm of New Orleans, each destination has something unique to offer.
So pack your bags, embark on a transformative journey, and let the world become your playground. Adventure is calling, and it's time to answer!